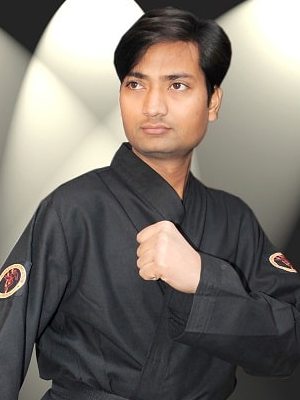 Sensei Amit Varshney started his career in 1990, He start to learn Oki-ru-ryu in the initial stage. He did hard practice and achieve first Dan Black Belt in 2000, from Cobra Karate Association India which was affiliated with U.S.K.A. America After that he played many tournaments and won gold medals in State and National level tournaments.
In 2002, He got Second Dan Black Belt and started his career as a martial arts trainer.
After a long gap he got Third Dan Black Belt from World Kenshin Do Karate Organization New Zealand.
From 2011, He is working with Karatians School India as a U. P. State Head and founding member of Karatians School India.
and after that he got his fourth Dan Black Belt by Grand Master Aguinaldo Dos Santos in 2018, From Brazil
Then he thought a new idea and started karatesikho.com his aim is to spread his ideas and vision on the the world level by this karatesikho.com
So we are glad to inform you that today KarateSikho.com has become India's number one platform for learning martial arts online in Hindi it is for male, female, girls, boys & kids and no age limit here.
Everyone can join it above 6 years Here you will get martial art classes at Home if you want to learn martial art from India's any corner then you should follow our hindi site Karatesikho.com
Here you can easily learn martial art Because we have made it very convenient for you, In this site you will get all about of martial arts in hindi.
Initially we will providing you some tutorials before online karate classes it is compulsory for basic purpose which you have to complete in 1 month after that you will be able to online Karate classes. So you should follow all the instructions.
You will get belt and certificates after exam it is very easy because here you will get a very easy concept for learning martial arts at Home so join it from today and get proper martial arts skills.